Marketing Executive | Millennium Place Marina Dubai
Marketing Executive: Job Requirement:
Develop marketing campaigns that promote a product, service, or idea. Includes planning, advertising, public relations, organizing events, product development, distribution, sponsorship, and research.
Provide a key support function between clients and the sales and marketing teams.
Promote and raise the brand awareness/ popularity of products.
Managing the production of marketing materials, including leaflets, posters, flyers, newsletters and e-newsletters, and DVDs; writing and proofreading copy.
Constantly apply standard operating procedures in your department.
Adhere to hotel policies and procedures.
The candidate should be/have:
Must have proven previous experience in a similar position in the UAE with at least 2-3 years in a hotel of 4/5* standard.
Current knowledge of effective marketing methods
Ability to identify trends and need areas in the international market
Excellent communication and negotiation skills
Proficient in MS Office
For application, send your CV to hr.mpdm@millenniumhotels.com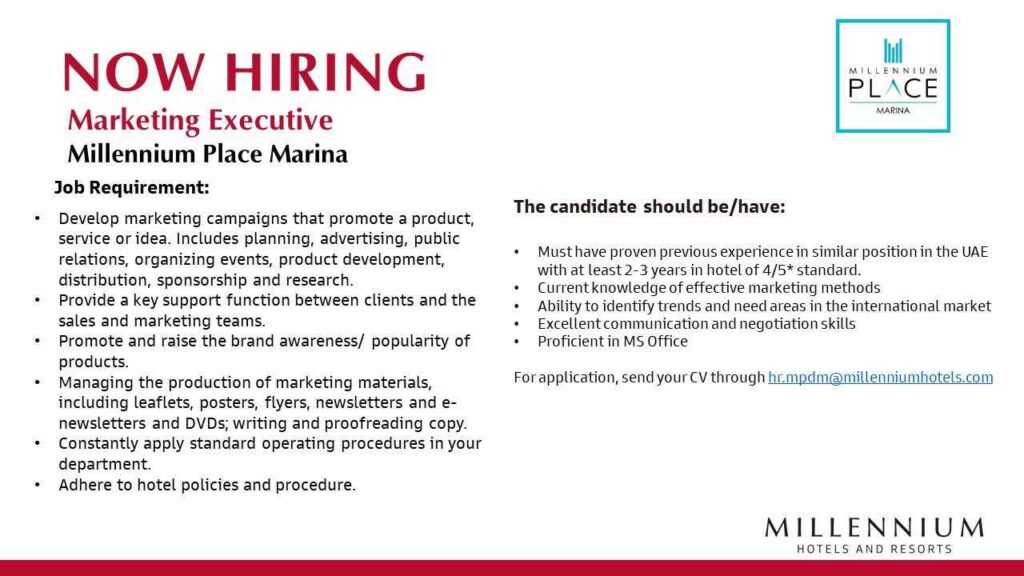 Related Postings
marketing executive, marketing executive jobs Dubai, marketing officer, digital marketing executive, social media executive