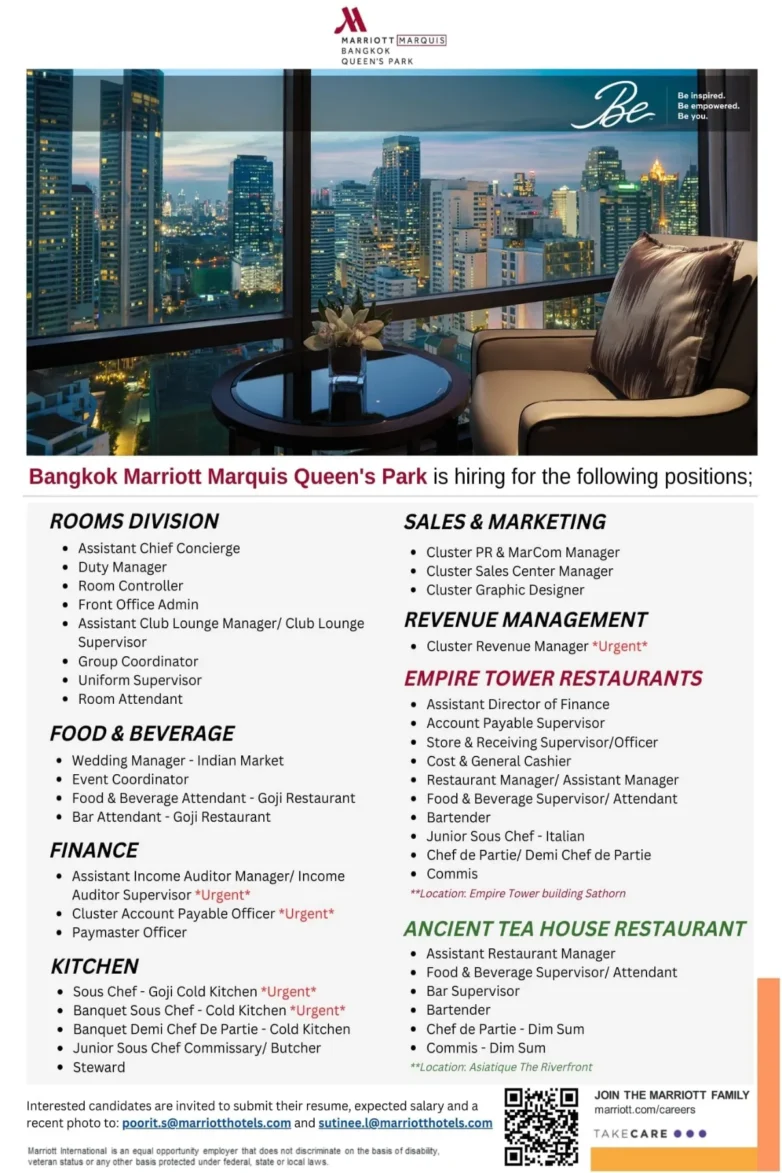 Bangkok Marriott Marquis Queen's Park Career Opportunities: Are you dreaming of a vibrant career in the heart of Bangkok? Look no further than the Bangkok Marriott Marquis Queen's Park, a place where extraordinary opportunities await you! This world-class hotel is not just a destination for luxury and comfort; it's also a hub for diverse and fulfilling careers.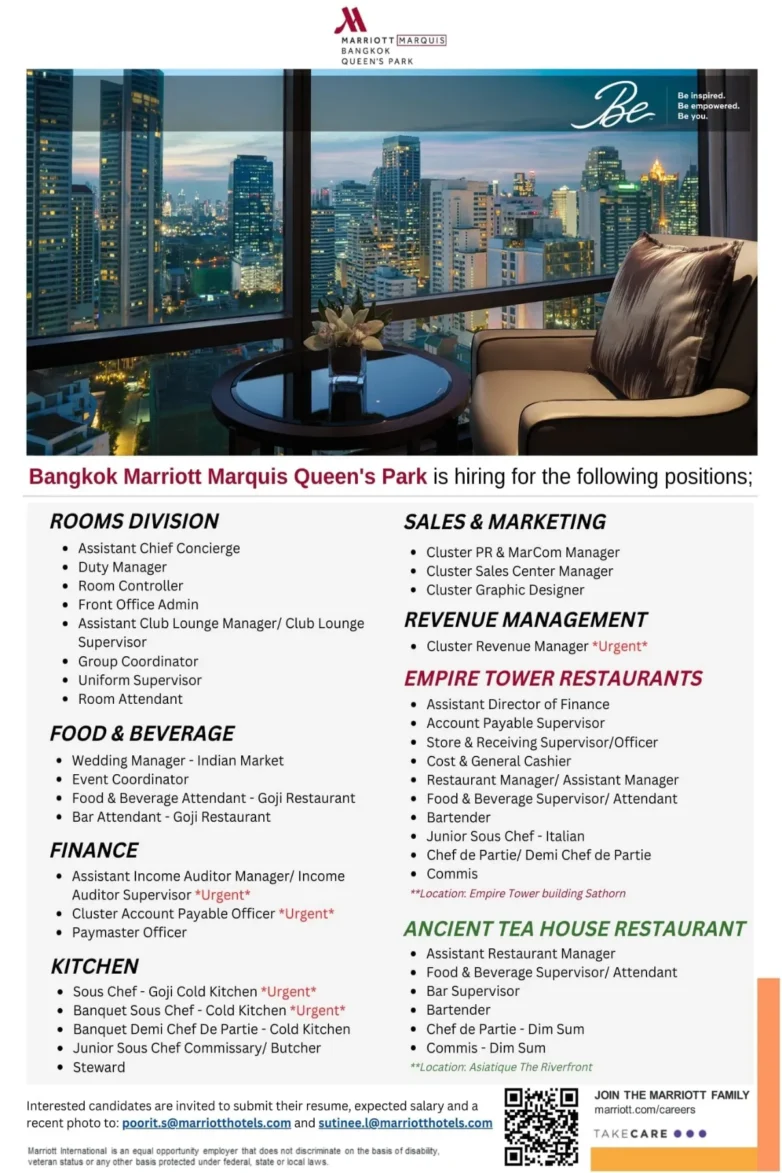 At Bangkok Marriott Marquis Queen's Park, we believe in nurturing talent and providing a platform for growth. Whether you're passionate about hospitality, culinary arts, or guest services, we have a range of career opportunities to suit your skills and interests. From front-of-house roles that welcome guests with warmth to behind-the-scenes positions that keep the hotel running smoothly, there's a place for everyone in our dynamic team.
Joining the Marriott family means becoming part of a global network with a commitment to excellence. Employees at our hotel enjoy not only competitive salaries but also numerous perks, including training and development programs, employee discounts, and a supportive work environment.
If you're ready to embark on a journey of professional growth and contribute to creating unforgettable experiences for our guests, explore the exciting career opportunities at Bangkok Marriott Marquis Queen's Park. Your dream job may be just a click away!
Bangkok Marriott Marquis Queen's Park Jobs
Bangkok Marriott Marquis Queen's Park is hiring for the following positions;
ROOMS DIVISION
Assistant Chief Concierge
Duty Manager
Room Controller
Front Office Admin
Assistant Club Lounge Manager/ Club Lounge Supervisor
Group Coordinator
Uniform Supervisor
Room Attendant
FOOD & BEVERAGE
Wedding Manager – Indian Market
Event Coordinator
Food & Beverage Attendant – Goji Restaurant
Bar Attendant – Goji Restaurant
FINANCE
Assistant Income Auditor Manager/ Income
Auditor Supervisor Urgent
Cluster Account Payable Officer Urgent
Paymaster Officer
KITCHEN
Sous Chef – Goji Cold Kitchen Urgent
Banquet Sous Chef – Cold Kitchen Urgent
Banquet Demi Chef De Partie – Cold Kitchen
Junior Sous Chef Commissary/ Butcher
Steward
SALES & MARKETING
Cluster PR & MarCom Manager
Cluster Sales Center Manager
Cluster Graphic Designer
REVENUE MANAGEMENT
Cluster Revenue Manager Urgent
EMPIRE TOWER RESTAURANTS
Assistant Director of Finance
Account Payable Supervisor
Store & Receiving Supervisor/Officer
Cost & General Cashier
Restaurant Manager/ Assistant Manager
Food & Beverage Supervisor/ Attendant
Bartender
Junior Sous Chef – Italian
Chef de Partie/ Demi Chef de Partie
Commis
**Location: Empire Tower Building Sathorn
ANCIENT TEA HOUSE RESTAURANT
Assistant Restaurant Manager
Food & Beverage Supervisor/ Attendant
Bar Supervisor
Bartender
Chef de Partie – Dim Sum
Commis – Dim Sum
**Location: Asiatique The Riverfront
Interested candidates are invited to submit their resume, expected salary and a recent photo to: poorit.s@marriotthotels.com and sutinee.l@marriotthotels.com
Marriott International is an equal-opportunity employer that does not discriminate on the basis of disability, veteran status, or any other basis protected under federal, state, or local laws
Exciting Jobs at Carlton Tower Jumeirah–Your Gateway to a Dream Career
Job Vacancies at The Umalas Signature
Restaurant General Manager Jobs Virgin Islands
Centara Mirage Beach Resort Dubai Vacancies