Brittney Griner: In the realm of women's basketball, few athletes have left as profound an impact as Brittney Griner. Standing tall at 6 feet 9 inches, Griner's towering presence is just one aspect of her remarkable journey. From humble beginnings to becoming a trailblazer on and off the court, her story is one of resilience, courage, and breaking down barriers.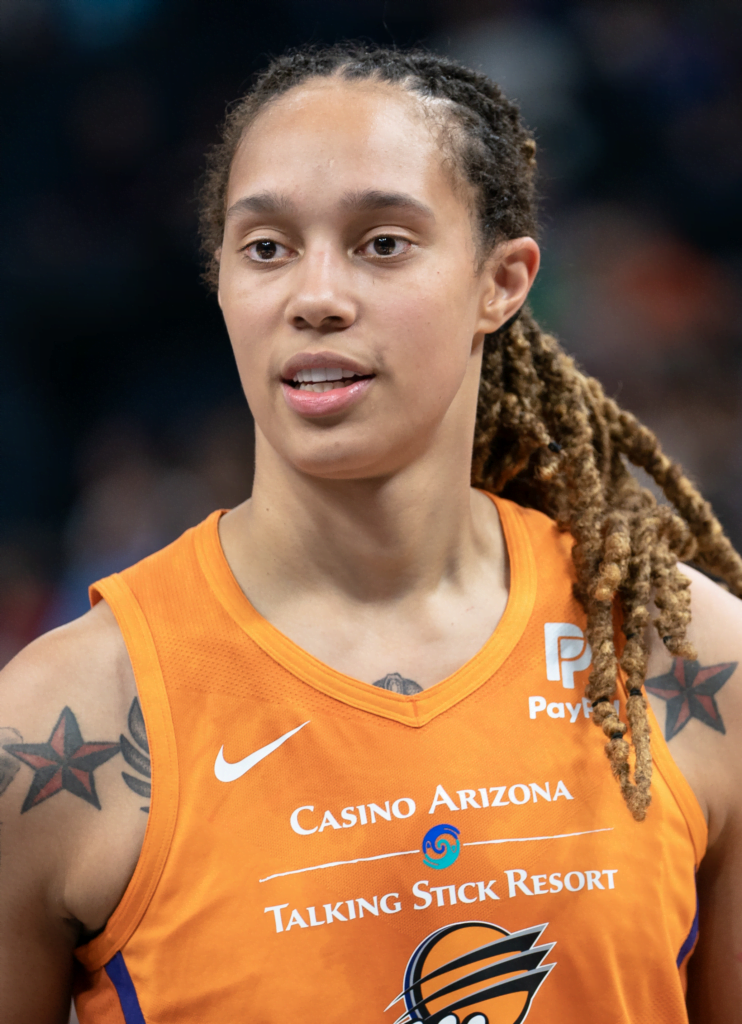 Brittney Griner: Early Life and Basketball Beginnings
Brittney Yevette Griner was born on October 18, 1990, in Houston, Texas. Raised in a modest family, Griner had her share of struggles growing up. She endured bullying and faced discrimination due to her height and demeanor, often feeling like an outsider. However, her love for basketball became her sanctuary, where she found solace and a sense of belonging.
Griner attended Nimitz High School, where she began to showcase her basketball prowess. Her exceptional skills and towering height quickly drew attention, and it wasn't long before she became a star player. By the time she graduated in 2009, she had earned numerous accolades, including the Naismith High School Player of the Year.
Brittney Griner: Dominating College Basketball
Upon enrolling at Baylor University, Griner became an instant force in women's college basketball. Her impact was undeniable, and she revolutionized the game with her shot-blocking abilities and dunks. In 2012, Griner led the Baylor Lady Bears to an undefeated season and a national championship title. She received the Most Outstanding Player award for her outstanding performances during the tournament.
Beyond her dominance on the court, Griner also sparked conversations about gender norms in sports. Her dunks and athleticism ignited debates about whether women's basketball should embrace the same high-flying style as the men's game. Griner's presence was changing the narrative, challenging stereotypes, and inspiring future generations of female athletes to aim higher.
Brittney Griner: Pioneering in the WNBA
In 2013, Brittney Griner entered the WNBA as the first overall pick by the Phoenix Mercury. The league had never seen a player with her combination of size, skills, and athleticism. She continued to break barriers in the professional league, becoming the first player to dunk twice in a single WNBA game.
Her performances on the court were awe-inspiring, and she quickly earned a reputation as one of the league's most dominant players. Griner's skill set transcended traditional positions, making her a unique and versatile player. She was equally adept at scoring in the post, blocking shots, and swatting away opponents' shots like no other.
Speaking Out and Advocacy
Beyond her remarkable basketball career, Griner has been a vocal advocate for LGBTQ+ rights and mental health awareness. She publicly came out as gay during her college days and has since been a staunch advocate for LGBTQ+ rights in sports, breaking down barriers for LGBTQ+ athletes.
Additionally, Griner has been candid about her struggles with mental health, encouraging others to seek help and openly discussing her own journey to overcome challenges. Her openness has further cemented her status as a role model, proving that vulnerability and strength can go hand in hand.
Challenges and Resilience
Despite her undeniable talent and success, Griner faced adversity both on and off the court. In 2015, she was arrested on domestic violence charges, an incident that brought immense scrutiny and raised questions about accountability in professional sports. Griner addressed the situation, taking responsibility for her actions, and used it as an opportunity to raise awareness about the complexities of intimate partner violence.
Throughout her career, Griner has displayed resilience in the face of challenges, refusing to let setbacks define her. Her journey serves as a testament to the power of determination and growth, and she continues to be an inspiration to her fans.
Conclusion: Brittney Griner's impact on women's basketball extends far beyond her towering height and impressive stats. She has shattered barriers, ignited important conversations about gender norms, and advocated for social change. From her early struggles to her historic achievements, Griner's journey is a testament to the transformative power of sports and the strength of the human spirit. As she continues to make her mark on and off the court, one thing remains clear – Brittney Griner is a true game-changer.
Read: The Magic of Magic Spoon Cereal: A Healthy and Delicious Breakfast Revolution