In the bustling world of hospitality and catering, APEX National Catering stands tall as a beacon of culinary excellence and innovation. Renowned for its commitment to quality, creativity, and customer satisfaction, APEX National Catering has become a symbol of gastronomic delight.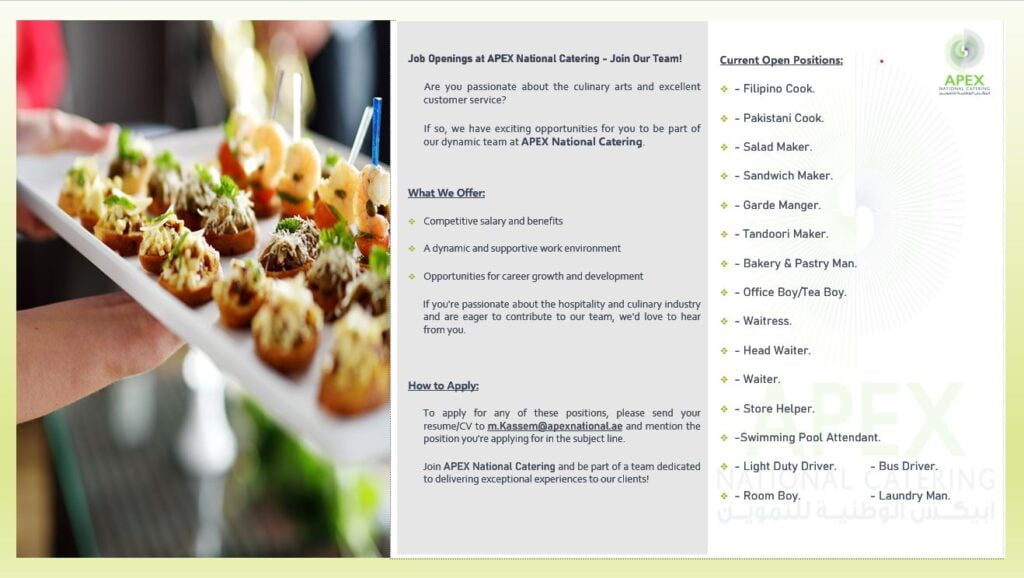 APEX National Catering: A Culture of Excellence
At APEX National Catering, employees are not just staff members; they are valued contributors to a culture of excellence. The company takes pride in nurturing talent and providing a supportive environment for growth and learning. With a diverse and inclusive workforce, APEX National Catering celebrates unique perspectives and encourages creativity, making it an ideal workplace for individuals with a passion for culinary arts and hospitality.
Job Openings Across Various Departments
Whether you are an aspiring chef, a skilled event planner, a dedicated service professional, or possess expertise in administration and management, APEX National Catering has a range of job openings to suit your talents and interests. From the sizzle of the kitchen to the meticulous planning behind the scenes, there are opportunities for everyone to shine.
Current Open Positions:
Are you passionate about the culinary arts and excellent customer service?
If so, we have exciting opportunities for you to be part of our dynamic team at APEX National Catering.
Filipino Cook.
Pakistani Cook.
Salad Maker.
Sandwich Maker.
-Garde Manger.
Tandoori Maker
Bakery & Pastry Man.
Office Boy/Tea Boy.
Waitress.
Head Waiter.
Waiter.
Store Helper.
-Swimming Pool Attendant.
Light Duty Driver.
-Bus Driver.
Room Boy.
Laundry Man.
What We Offer:
Competitive salary and benefits
A dynamic and supportive work environment
Opportunities for career growth and development
If you're passionate about the hospitality and culinary industry and are eager to contribute to our team, we'd love to hear from you.
How to Apply:
To apply for any of these positions, please send your resume/CV to m.Kassem@apexnational.ae and mention the position you're applying for in the subject line.
Join APEX National Catering and be part of a team dedicated to delivering exceptional experiences to our clients!
Explore the Bertam Resort Vacancy: Exciting Opportunities Await Job Seekers Apply Today
You May be Interested
General Manager Marina Mall Abu Dhabi
Exciting Opportunities Await UAE Hotels on a Hiring Spree for Diverse Roles Apply
Bar Supervisor – The St. Regis Red Sea